Whether you're renting or ready to purchase a campervan to wild camp across our beautiful country or you're looking to make a day trip and need something fast and efficient like a ground or roof top tent, there's no wrong way to camp. In this article, we will take a comprehensive look into the differences between a campervan, roof top tent, and ground tent to help you decide which is the best option for your upcoming adventure.
Benefits of a Campervan
A campervan – often referred to as a motor caravan or camper – is essentially a van that's been fitted to become a home on wheels. These campervans are usually equipped with sleeping areas such as a pull-out bed, but depending on the size of the vehicle, they can contain much more than that. As more and more people have opted to leave their homes in favor of a life on the road, campervans now often contain a portable toilet, roof racks for storage, a dining area, mini-fridge, and even a dual burner to cook food on.
The best benefit of a campervan is that it offers longevity and flexibility for diehard campers. Most vehicles can be transformed into a campervan with the help of a conversion kit, which depending on the make and model of your vehicle and the different features you'd like to add to it, can set you back anywhere between €2,000-€30,000.
While it can be costly to purchase a campervan or convert one, the benefits of owning one can't be understated. Such benefits include:
Freedom to go where you want, when you want
Comfort
Saves money on hotels and food
Make you feel safer if you're camping in an unfamiliar area
If you're contemplating moving forward with a campervan, remember to factor in the cost of ongoing maintenance to your vehicle, including fuel, especially if you're traveling often. Also, be cognizant of any areas in which you will be prohibited to park and/or visit.
Benefits of Ground Tent
Camping means different things to different people and while the ability to travel at one's leisure in a campervan might appeal to some, it often doesn't compare to the ruggedness of setting up camp in the middle of the wilderness. This is where ground tents come in.
Ground tents have long been touted as one of the most popular options when it comes to camping – and for good reason. They're affordable, relatively simple to set up (once you know what you're doing) and once they are, can usually accommodate four people, which is perfect for weekend getaways with the family or with friends. One of the main reasons as to why ground tents have been so popular is because it provides campers with the option to move their campsite. As opposed to a campervan or roof top tent, ground tents are portable on their own, which is beneficial especially if you want to camp in an area where parking is limited.
Ground tents also offer a lot of flexibility depending on the size. For larger ground tents, you can easily fit a cot or chairs to make your experience more comfortable. Because ground tents are pitched on dirt, campers are often exposed to harsh elements such as wind, rain, and snow, with little protection. Campers may also be exposed to the rocky ground while trying to sleep, as well as different bugs and critters, which may be a serious drawback for some.
While ground tents are still wildly popular around Ireland, they have started to be pushed out a bit by roof top tents, which is what we'll take a look at next.
Benefits of Roof Top Tent
Don't want to sleep on wet or rocky ground? Do you want the comfort of home with the flexibility to travel at your leisure? If this sounds like you, then you're the ideal customer for a roof top tent. Like campervans, roof top tents – often abbreviated as RTTs – have exploded in popularity in recent years, and for good reason. First and foremost, roof top tents are affordable, costing way less money than purchasing or renovating a campervan. They're incredibly easy to set up, offer better views than you would find if you pitched a tent on the ground and they keep you away from dirt, bugs, and other creatures.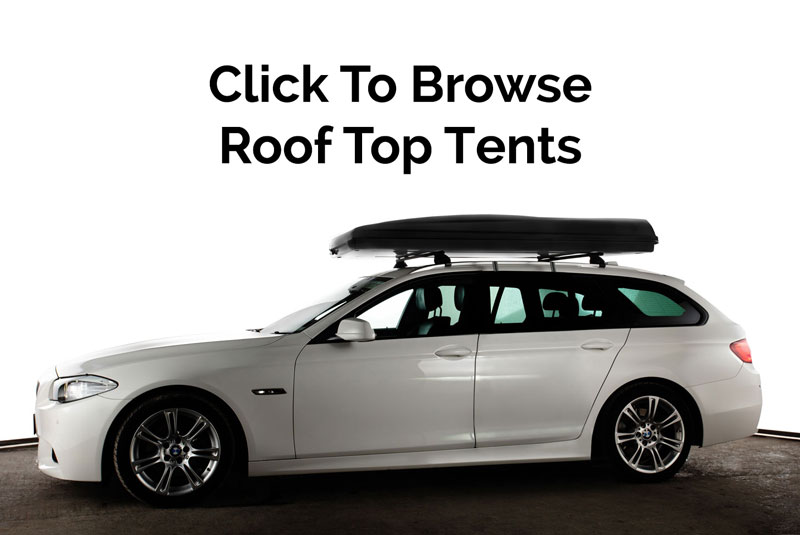 Unlike ground tents, which involve rolling out the tent over the foundation and fumbling over poles, and staking it, rooftop tents unfold easily from the top of your vehicle with little to no effort. They can be installed on the roof racks of your vehicle and when you've found your camping spot, all you have to do is set up your ladder and deploy your tent. Roof top tents come equipped with a foam mattress, perfect for sleeping. The biggest benefit of roof top tents is that they can usually be mounted on any type of vehicle and you can purchase these roof racks easily online or at brick-and-mortar stores.
Roof top tents offer a unique experience for campers that combines the best of both worlds. Like campervans, rooftop tents allow you the freedom to explore our beautiful country on a whim, all the while allowing you to experience the comfort and tranquillity of being exposed to nature like you would on any camping trip. Rooftop tents also offer flexibility for you to change your mind; if the weather is bad, you have the option to sleep in your vehicle and as soon as it clears up, you can have the tent set up in a matter of minutes and sleep outside. It's this versatility that has continued to appeal to campers in recent years and with them costing around €1799, they're an affordable option when it comes to camping.
Conclusion
Like we mentioned earlier, camping looks different for everyone, which is precisely why roof top tents are such a versatile and popular option for experienced and novice campers alike. It blends the comfort of a campervan and the ruggedness of a ground tent all in one, all the while being a durable product that is going to last you for years to come. Contact us here to learn more.