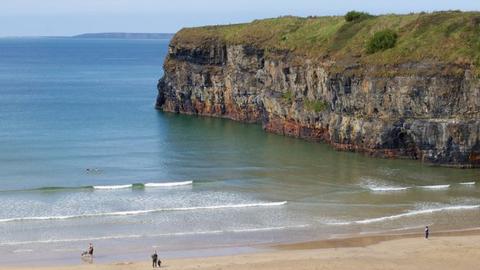 Full disclosure, I have been to Ballybunion in County Kerry in Ireland many times, the first when I was just 18 years of age. Paul, one of my best friend's, invited me to visit the town when we were supposed to be studying for our Leaving Certificate, final state exams in Ireland. His mother drove us down and we stayed 2 nights and since then I have returned annually as the Ballybunion bug caught me early. Paul's family own one of the Doon Bay Chalets and this is where Eva and I based ourselves when we visited recently.
Day 1 of our camping trip to Ballybunion in a Car Roof Top Tent!
We took the Friday off work and travelled down early with my Car Roof Top Tent attached to the roof rack of my car. Although we based ourselves at my friend's chalet, we were not guaranteed our own room as there were others staying too.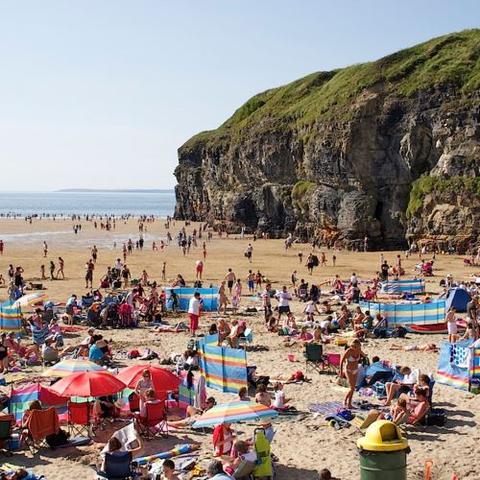 For those not familiar with Ballybunion in Kerry, the Doon Bay Chalets are situated at the top of the spectacular Ballybunion cliffs and these dwellings mark the beginning of the 2km Ballybunion Cliff Walk. We set off with beers in hand. The weather in Ballybunion that July day was warm with a breeze, perfect walking conditions but playing havoc with Eva's blond tresses.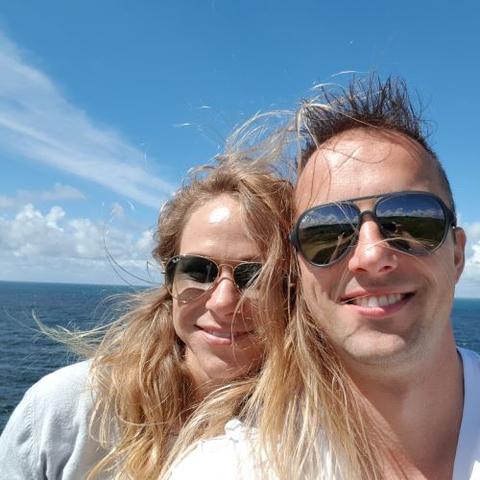 The path wound and traced the outline of the Kerry coastline with the cliffs constantly presenting new sights to marvel at; blowholes, sea stacks and finally, Nun's beach – rumoured in the past to have been a nude swimmers paradise!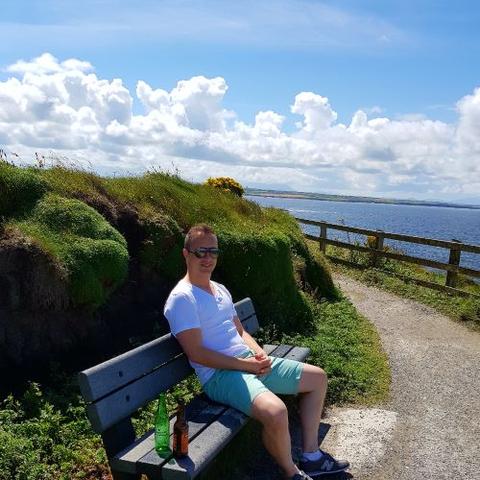 We scrambled down the rough track and final few meters using ropes to Nun's beach which we found completely deserted. We whipped off our clothes bar bikini and swim shorts and hopped into the bracing yet crystal clear sea and swam across to the cliff face where inviting sea caves beckon on the other side of the cove. Prudently, we did not enter but instead threaded water marvelling at the sea birds swooping in and out from their nests high above us.
Afterwards, as we emerged shivering from the water, to our extreme delight, a pod of dolphins breached close to the sea stack on the other side of the bay and frolicked in view for 5 minutes before disappearing again beneath the waves. What a Friday this was!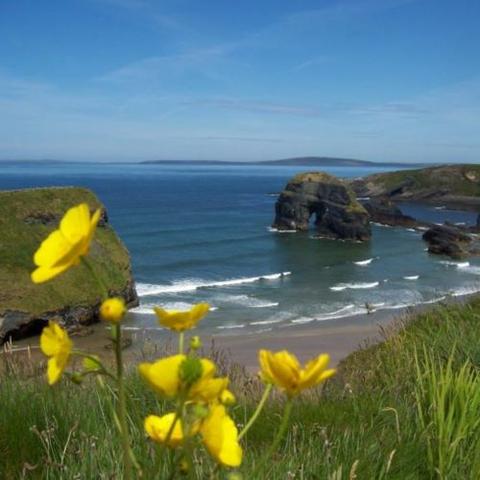 We spent the rest of the afternoon doing a few chores like getting charcoal and food supplies from Cahill's Supervalu in Ballybunion for our large BBQ we planned to have that evening, which turned out really well, with the menu comprised of; marinated striploins, sausages, salad, coleslaw and garlic bread.
Finally, after dinner and before the sun set, we went to take in the views over Ladies beach with Ballybunion castle in the foreground. Ladies beach has everything for the beach goer including, shops, cafes, surfing, caves, and the famous seaweed baths.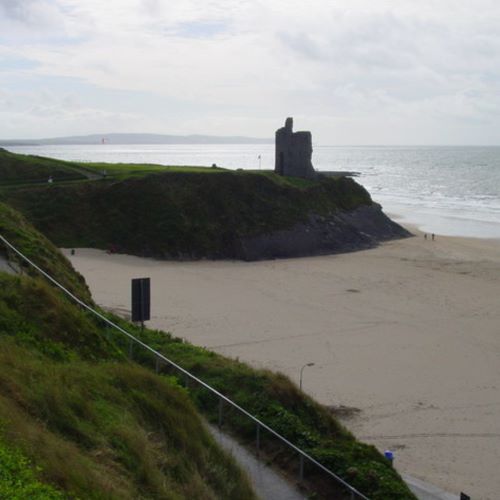 Day 2 of our trip to Ballybunion in a Car Roof Top Tent!
Saturday started slowly with us nursing slight headaches from the previous evenings gorging of food and more beer. After lunch, we headed again for Ladies beach but this time down onto the sand as the sun was out and the Opal coloured sea looked incredibly inviting. The sand was crowded when we got there but we soon found a space against the rocks underneath the battered Ballybunion castle walls.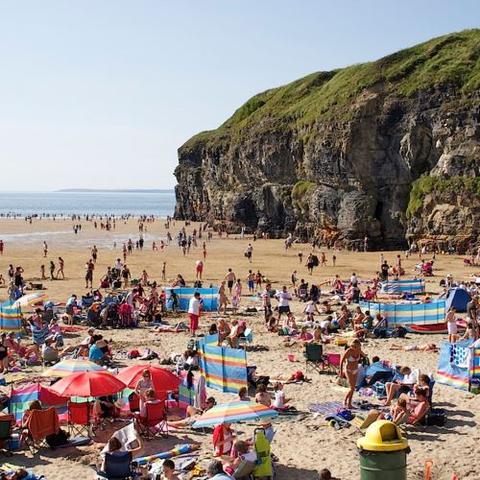 We whiled away the hours, lounging in the 23 degrees centigrade temperatures, occasionally taking a dip in the unusually calm Kerry sea water which was as cold as yesterday's swim at Nun's beach or sauntering along the shore taking advantage of the slight breeze at the water's edge.
We had decided to eat at McMunn's that evening and had telephoned in our booking the previous night. There are a few Ballybunion restaurants of note and this, in our opinion, is one of the best.
We arrived early evening and sat outside with an alcohol beverage to wait for our table. The sun was still shining with an enjoyable twenty minutes spent people watching. McMunn's is close to the sea, to the left of Ballybunion castle with the Men's beach car park nearby. There was a small carnival set up in front of the restaurant and we could see children playing on the dodgems and begging their parents for more candyfloss.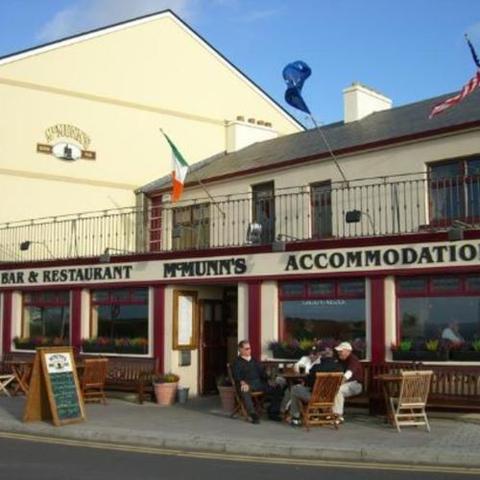 Finally, our table was ready, and we were led to a lovely spot next to the large Heley Stove that thankfully had not been lit as we would have roasted. On this occasion, there was lobster on the menu which we were assured had been caught that same day. We both decided to go all out and eat fish for starter's and main course with half a dozen of oysters and a very generous sized lobster to follow steamed to perfection with a side of garlic butter to complement the crustacean's unique taste.
McMunn's Bar and Restaurant is known for its sumptuous seafood, locally sourced Kerry meat and a great whisky menu. It is well worth a visit, but booking is advisable. With our belly's full we headed to the Bromore Cliff's to our last vantage point and final sightseeing of the weekend.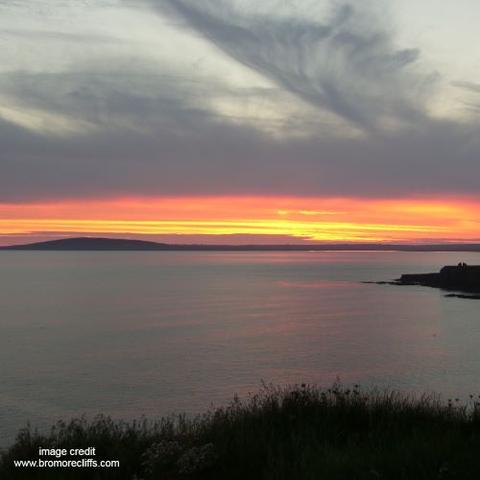 Ballybunion is obviously renowned for the town's beautiful Ballybunion Cliff Walk, which I have described earlier. However, 1km north of the town there is the less well known Bromore Cliffs which in my opinion provides an as good cliff walk as the former. We strolled up to the entrance, thankful of the opportunity to walk off some of our dinner. Entrance is €2 per person or if arriving by vehicle; €5 for a car and all passengers which is very fair. The Bromore cliffs are famous for the beautiful scenery and a prehistoric promontory stone fort facing the Atlantic Ocean which provided protection to its inhabitant's millennia ago as it is surrounded by the waves on three sides.
The highlight of any excursion to the Bromore Cliff's is the sea stack and, on this evening, the tall structure was dark and mystical when set against the sun which was dipping below the horizon.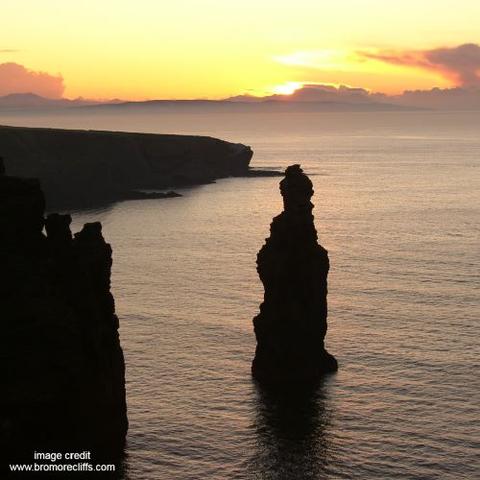 Thank you for reading my blog about our trip to Ballybunion, Kerry in Ireland. Any trip's enjoyment will be subject to the weather and the weather in Ballybunion is changeable considering how close to the west coast of Ireland it is situated. A visitor can be extremely lucky as we were with the good weather. Get hot, settled weather in Ballybunion and you will never want to leave. The beaches and water quality are of the highest level coupled to the scenery on offer and if you are lucky, good weather makes Ballybunion one of the best places to visit in Ireland during the summer months.
The highlight of our trip to Ballybunion in Kerry in Ireland was definitely our meal in McMunn's followed by the amazing Bromore Cliff's.
If you liked my blog, please check out my new car roof top tent brand called Car Camper. Having a roof top tent mounted on your car allows you to travel to such destinations as Ballybunion regardless of having good or bad weather as it is completely waterproof, nor do you need to have accommodation planned or booked in advance as you will be sleeping on top of your car.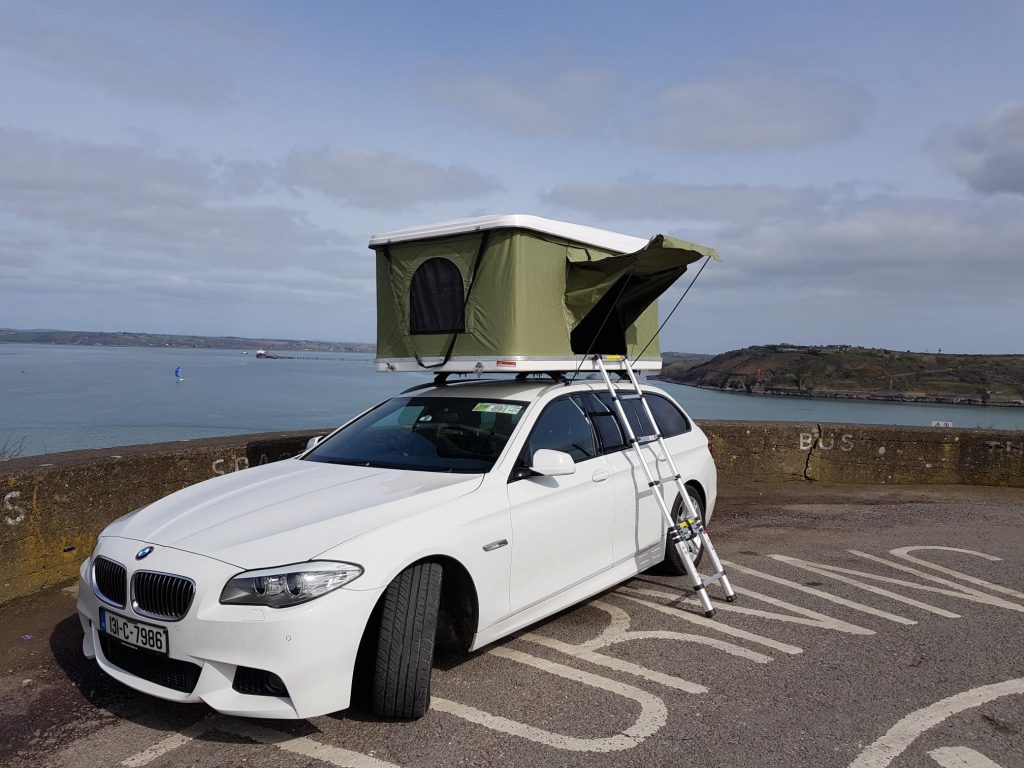 Take care, Greg.