Roof Top Tents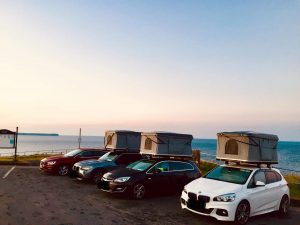 Are you tired of waking up in a flimsy tent when camping? Try sleeping in Car Camper, the latest pop-up car roof top tent. Unlike a standard tent, the best rooftop tents keep you dry and off the ground and ours is no different. And you can enjoy sunset's like the one pictured above.
With the latest roof top tent, you can quickly add comfortable sleeping space to almost any car or SUV. It provides the perfect alternative to a standard tent. You can drive until you reach your camping site and quickly set-up. This rooftop tent includes hydraulic arms that automatically open the tent. You just need to unhook the four clips and the tent instantly springs free.
The interior of this tent comes equipped with everything needed for a comfortable night's rest. Included is a mattress and a  ladder to easily climb up and into the tent. Once inside, turn on the lights and plug your mobile phones into the battery pack supplied with your purchase. The battery can be connected to a solar panel built into the roof. If you park in an area with enough light, you may not need to use a car battery to charge your devices.
Our Car Camper branded car tent is made from quality materials to provide many years of use. It features Oxford canvas with a high waterproof rating. The hard top help shield against severe weather and keeps you dry. The base of the car camping tent is made from durable fibreglass.
Whether you need a Jeep roof tent or a rooftop tent for a small car, our range makes a smart choice. It can be mounted on any vehicle, including pickup trucks, cars, vans, and SUVs.
Showing 1–8 of 10 results
Why Should You Buy a Car Roof Tent?
The car top tent is the perfect solution for those who enjoy camping but dislike the discomfort of sleeping in a standard tent. If the ground becomes damp, the moisture often seeps through the base of the tent, soaking you and everything else inside. A roof rack sits on top of the vehicle. It mounts to the rack bars, keeping you off the ground and the top of the vehicle. In the morning, you do not need to spend hours taking apart your product, packing away the poles, and cleaning mud and dirt from the fabric. You just need to close the roof tent and lock the clips to secure the car tent. Within minutes, you could be ready to drive from your camping site and on to your next destination. Shop for the best roof top tents for sale and start camping in comfort.
Mmantas Taraskevvicius
2021-05-05
I got my hard shell roof box tent from Greg, I am very happy with quality, and service:)
We bought a roof tent from Greg last year and I have to say its the best thing we ever spent money on its amazing and so easy to pop up and down, we had great trips with it last year and cant wait to use it again,,Everything from start to finish was brilliant dealing with Greg and i couldnt recommend him highly enough. Also check out their amazing new lights on their site,I love mine already and there such a cute gift idea.😍💞
Just got our Mako56 roof tent from Greg and Co. Fantastic bit of kit. Well built and the over all quality of the product is manufactured to a very high standard. Looking forward to getting out and exploring this wonderful country again. Already planning a trip to France for the Rugby world cup.
We bought a roof top tent from Greg last year. It's one of the best things we have bought in a long time, it has brought out the sence of adventure in us again. We would REALLY recommend that you go and buy one from Greg at mako56, the service that he provided was excellent, we give him 5 stars ✨ thank you Greg
Michael Mulcahy
2021-01-16
Nice product and great customer service.
Bob MacAllister
2021-01-14
Bought a roof tent. Quality is as good as I'd hoped and Greg was very helpful.